Armytek NyoGel 760G 10 ml
During the everyday operation when you switch the modes and tighten / loosen flashlight parts, O-rings and threads undergo friction and wear out. That is why special thread grease was developed to maintain top conditions of the flashlight and prolong its life. The best choice for use with flashlights is thick silicone O-ring grease (thread grease) Nyogel 760G. This thread grease is very sluggish and doesn't dissolve in most liquids as water, methanol etc. Besides it reserves these characteristics in wide temperature range.
The other reason to lubricate all threads and O-rings with silicon thread grease is its water resistant characteristics. All Armytek flashlights are submersible up to 50 meters depth and can be used as lights for diving and spearfishing. Thread grease improves the water resistance of our flashlights and also enhances other features - eases mode switching and saves threads from wearing out. Flashlight grease can definitely prolong lifetime for threads in your device and provide your with better and most reliable performance.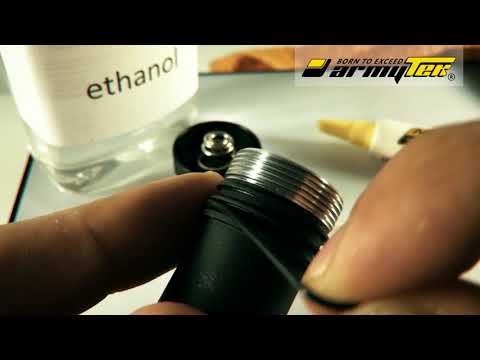 Armytek-taskulamppujen asianmukainen hoito
Akkupesän kierteet ja tiivisterengas tulisi puhdistaa liasta ja rasvasta vähintään kaksi kertaa vuodessa. Kulunut tiivisterengas
heikentää valaisimen veden- ja pölynkestävyyttä. Likaantuminen ja voitelun puute aiheuttaa kierteiden ja tiivisteen tavallista
nopeampaa kulumista.
Näin puhdistat akkupesän kierteet:
1. Kierrä akkupesän korkki auki ja poista tiivisterengas esim. hammastikulla (älä käytä teräviä metalliesineitä, jotta tiiviste ei
vahingoitu).
2. Pyyhi tiivisterengas huolellisesti liinalla. Älä käytä liuottimia. Jos tiivisterengas on kulunut tai rikkoutunut, korvaa se uudella.
3. Puhdista kierteet pienellä harjalla ja etanolilla. Vältä puhdistusnesteen joutumista valaisimen tai akkupesän korkin sisään,
missä neste saattaa aiheuttaa häiriöitä valaisimen toimintaan.
Voitele kierteet ja tiiviste puhdistuksen jälkeen käyttäen polyalfaolefiini-pohjaista silikonirasvaa (esim. Nyogel 760G). Vääränlaisen
voiteluaineen käyttö saattaa vahingoittaa tiivisterengasta!
Mikäli valaisinta käytetään pölyisissä tiloissa, akkupesän kierteet ja tiivisterengas tulee puhdistaa ja voidella tavanomaista